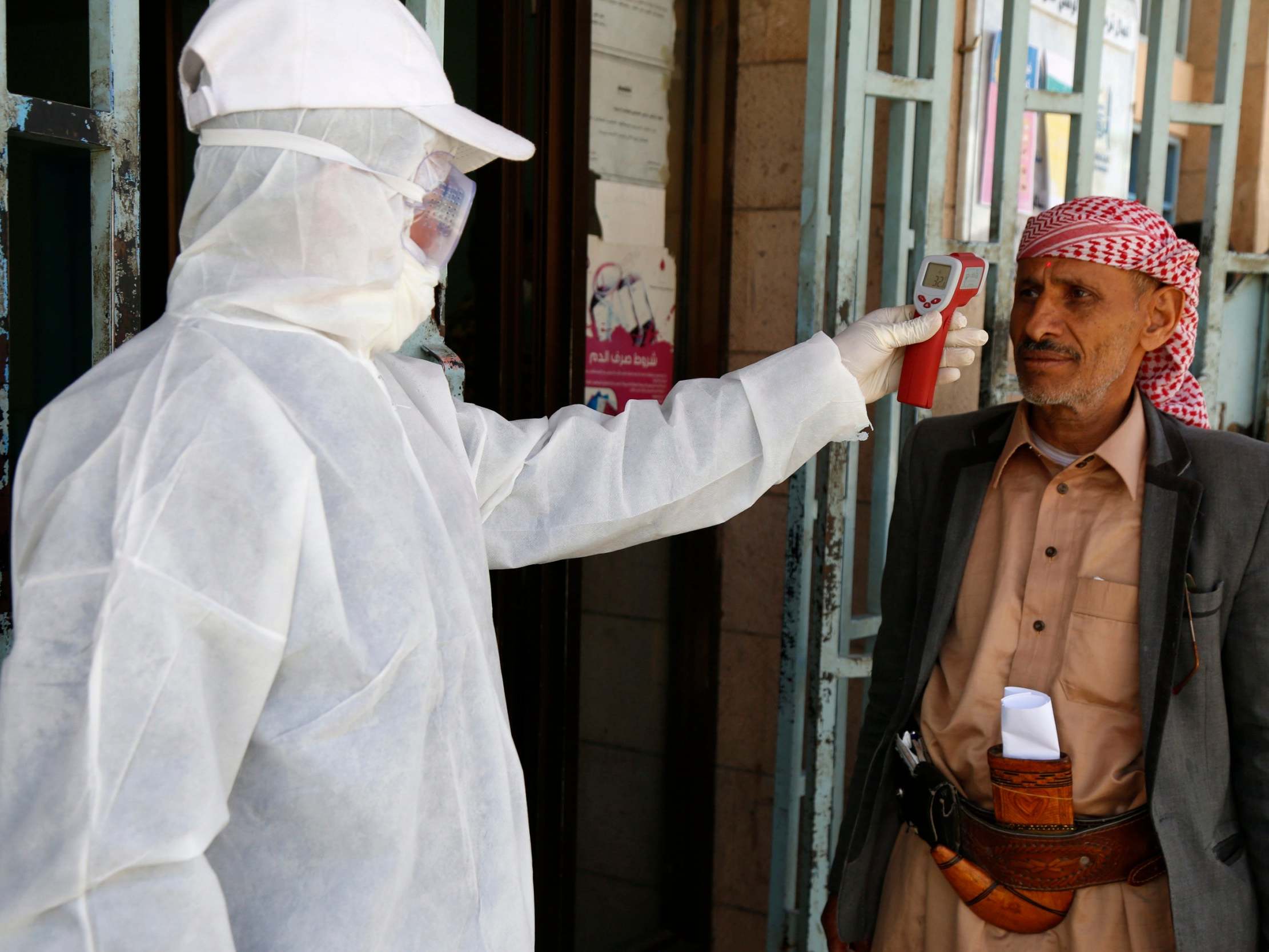 Yemen has reported its first case of coronavirus, sparking fears of a deadly epidemic in a country where a five-year war has already destroyed the health system and spread disease and hunger.
The ministry of health announced that one case had been discovered in Shihr in Hadhramaut, a southern oil-producing region controlled by Yemen's internationally recognised government.
The person was "stable and receiving medical attention", the supreme national emergency committee said.
The World Health Organisation (WHO) added that the case was in isolation and all known contacts are being traced and quarantined.
Yemen has been ravaged by a five-year civil war which has sparked the world's largest humanitarian crisis in terms of numbers, pushed two-thirds of the country to the brink famine and prompted the worst outbreak of cholera in modern history.
Lise ​Grande, United Nations humanitarian coordinator, told Reuters on Friday if the virus spreads in the country so pounded by war, the impact would be "catastrophic".
Ms Grande added that the health status of at least half the population is "very degraded" and the country does not have sufficient supplies or facilities.
A day before Yemen's first coronavirus case was revealed, the World Food Programme (WFP) had said it was forced to halve the aid it gives to people in parts of the country controlled by the Iranian-backed rebel Houthi movement from mid-April after donors cut funding over concerns the Houthis are hindering aid deliveries.
"WFP's operation in Yemen is now facing a critical funding shortage and is left with no choice but to reduce assistance by half to avoid a full stop of assistance in the future," a WFP spokesperson told Reuters.
Save the Children said Yemen is "critically under-equipped", with only 700 intensive care unit beds, including 60 for children, and 500 ventilators for a population of about 30 million.
Medecins Sans Frontieres (MSF), which has helped set up Covid-19 treatment centres in government-controlled Aden and rebel-controlled Sana'a, called for urgent delivery of personal protective equipment and testing capacity to Yemen for both sides.
"The different Yemeni authorities also need to allow the entry of key medical and support staff from foreign organisations," said Caroline Seguin, MSF operations manager for Yemen.
The International Rescue Committee said that more than half of Yemen's health facilities are no longer functioning and 18 million people are without access to proper hygiene, water and sanitation.
It also called for an end to restrictions on delivery of aid as well as humanitarian personnel who have been prevented from accessing those in need.
"There must be exceptions for humanitarian staff and supplies. Measures to halt the disease will be counterproductive if they prevent life-saving aid from reaching those in need," Tamuna Sabedze, Yemen country director at the International Rescue Committee, said.
The Yemen war first erupted when Houthi rebels swept control of the country, ousting the recognised government and president, Abedrabbo Mansour Hadi.
In 2015, Saudi Arabia and its regional allies – including the UAE, Egypt and Sudan – launched a bombing campaign to reinstate Mr Hadi, fearing the encroachment of Iranian influence in the region.
The fighting has destroyed the healthcare system and left 80 per cent of the population – or 24 million people – relying on some form of humanitarian assistance to survive, according to the UN.
More than 100,000 people have been killed, only half the hospitals are functioning.
On Thursday, the Saudi-led coalition announced a temporary two-week ceasefire to help the coronavirus response but many fear it will not hold.
The Yemen authorities have ordered the closure of Shihr port for a week and instructed workers there to isolate at home for two weeks, according to a directive seen by Reuters.
They also imposed a 12-hour nightly curfew in all Hadhramaut districts starting from 6pm on Friday until further notice.
The WHO has said previously it was working to provide Yemen with the ability to test thousands of patients. It has already provided 500 testing kits.
Ali al-Walidi, spokesman for the government's national emergency committee, told Reuters this week that in southern Yemen quarantine centres had been set up in Hadhramaut, Al Mahra and Aden.
The committee was requesting ventilators, oxygen tanks and hospital beds from the WHO.
Bel Trew

www.independent.co.uk

Source link